Weekly Newsletter, Issue 124
---
🏞️ PETITION FOR A SAFER COBBS CREEK PKWY

For far too long Cobbs Creek Parkway has been a deadly thoroughfare weaving through the western edge of West and Southwest Philadelphia.
Sign the petition
to join the Cobbs Creek Neighbors Association and 5th Square in demanding PennDOT & the Philadelphia Streets Department to immediately implement road safety measures so no more lives are lost.
Seeing the tragic deaths of pedestrian, Avante Reynolds, in August and two motorists in July, we demand immediate action to make this road safe for all its users.
For more background, check out the article, Calls for safety on Cobbs Creek Parkway need to be answered collectively, once and for all written by co-founder of Cobbs Creek Neighbors and 5th Square volunteer, Larissa Mogano.
Courtesy Larissa Mogano
Also the following news articles:
---
🏛️ MEET-UP WITH COUNCILMEMBER GILMORE RICHARDSON
---
🔎 CHECK YOUR MAIL-IN BALLOT STATUS
Unsure if you already applied to vote by mail in the November Election?
If your status says "Pending" then you will be mailed a ballot.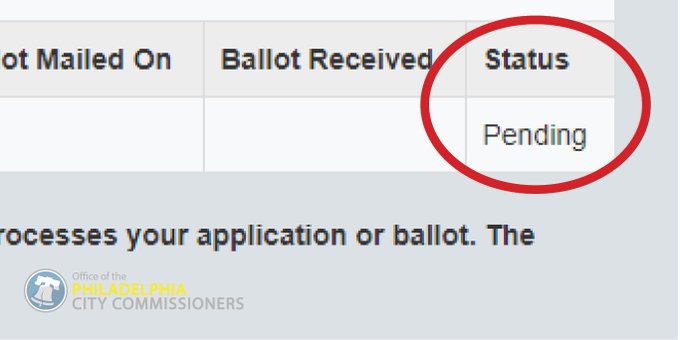 ---
GRANT / PROJECT OPPORTUNITIES
⭐ PPA - RFI Curb Management System – Pilot Program
This request for information is being issued by the Philadelphia Parking Authority (the "Authority"). The Authority is soliciting written responses from qualified companies regarding products, service and technology relating to Curb Management Systems. (Due 9/14)
Request for Proposals: Facilitation Services for Historic and Cultural Resources Survey Pilot
The City of Philadelphia Department of Planning and Development (DPD) has issued a Request for Proposals (RFP) to support an initial planning effort in advance of a citywide historic preservation survey. The selected consultant will assist DPD to develop criteria and processes for the citywide survey that ensures equity and identifies means to engage populations and histories not currently reflected in the Philadelphia Register of Historic Places. (Due 9/15)
The Philadelphia Housing Development Corp. (PHDC) - Professional Services RFPs

Smart Growth America (SGA) and the Centers for Disease Control and Prevention's Division of Nutrition, Physical Activity, and Obesity are now accepting applications for the Champions Institute, a new initiative for elected officials focused on safe streets and healthy communities. The Champions Institute will serve to prepare mayors, city council people, tribal representatives, and other local elected-officials to act as champions supporting plans, policies, and funding that promote activity-friendly routes to everyday destinations, as part of the Active People, Healthy Nation Initiative. (DUE 9/10)
From the pandemic to systemic racism and inequality, the Philadelphia Housing Development Corporation is asking artists to explore our present reality. 100 artists' proposals will be awarded $1,000 each for community-based art projects. (Due 10/7)
---
JOB OPPORTUNITIES
Philadelphia Housing Development Corporation (PHDC) | Program Analyst, Philadelphia

Fairmount Park Conservancy | TreePhilly Coordinator, Development Manager, Community Program Coordinator, Facilities and Landscape Manager
Schuylkill River Greenways | 
The West Philadelphia Cultural Alliance | Executive Director - Paul Robeson House & Museum
The Alliance for Watershed Education of the Delaware River | Managing Director
PennDOT's Office of the Secretary | Civil Engineer
Azavea |
, 
City of Philadelphia | COVID-19 Planning and Logistics Coordinator
City of Philadelphia | 
Dragonfly Partners LLC | Administrative Assistant (P/T)

Philabundance | Senior Vice President - Chief Financial Officer

Philadelphians Organized to Witness Empower & Rebuild (POWER) | Director of Development, Communications Director
City of Allentown | Historic Preservation Planning Officer, Chief Planner

Sustainable Business Network of Greater Philadelphia (SBN) | Manager of our GSI Partners initiative
---
5th Square is Philadelphia's urbanist political action committee.
We're an all-volunteer grassroots organization advocating for safe and affordable transportation, abundant housing, and more and better public spaces. You're receiving this email if you signed up via our website, attended one of our events, or supported one of our advocacy campaigns. 
Support our advocacy with a recurring monthly contribution of $5.

Do you like this post?