Weekly Newsletter, Issue 177
---
🚲 PARKING PROTECTED BIKE LANES
Last Monday, the State Senate Transportation Committee held a hearing about HB140, which amends Title 75 to legalize parking separated bike lanes. Sarah Clark Stuart of the Bicycle Coalition provided testimony in favor of the bill. The City of Philadelphia with Kittleson and Associates has already released a study on parking separated bike lanes as part of a cycling network. There are already some bike lane pilot projects like this around the city that were granted special permissions through PennDOT, like Market St and JFK Blvd. However, passage of HB140 would allow those and other projects to become permanent. If you haven't already, send an email to your elected officials to encourage them to take the vote on this in April. There are only a few days left for legislative sessions...
---
🚧 TACTICAL URBANISM

DVRPC has an ongoing program called Expo: Experimental Pop-ups that assists communities in addressing safety concerns and improving access for pedestrians and people riding bikes by testing solutions through demonstration or pop-up projects. Their webinar on April 20 features key organizers from communities that have worked with DVRPC. You can register for the webinar below in the Events section. If you have a potential project that would benefit from this program, fill out this form.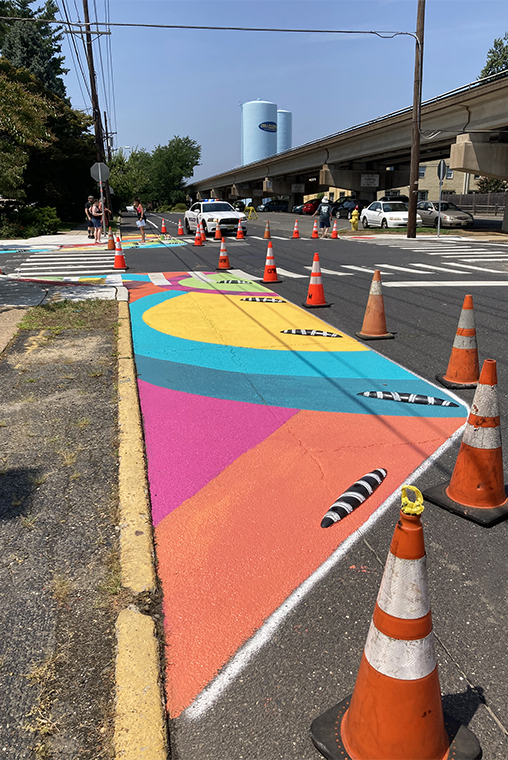 We still need your help come election season. Your insights and financial contributions will help hone candidates to advocate for a more sustainable, walkable, and bicycle-friendly Philadelphia!
---
SURVEYS & EMAIL ACTIONS
A coalition of parks groups, Recreation Advisory Councils and Out of School Time providers have an email campaign asking for an $8 million increase in the Philadelphia Parks & Recreation operating budget to make our parks and rec centers safe, clean and ready to use. A corresponding rally takes place on April 21st--check the Events section below for rally details.
SEPTA is redesigning their main website, septa.org, and would like your thoughts about the kind of information you would like from the website and/or transit related apps. Click here for the survey.
Clean Air Council has a campaign to increase funding for sidewalks in the city. If you've encountered some sketchy sidewalks while strolling around your neighborhood, this is a good chance for you to encourage the Streets Department to repair the sidewalks.
---
🌳 PUBLIC SPACE
CBS Philly / Temple President Goes On Bike Tour Sharing Message Of Stopping Gun Violence
CBC / 10 Montreal streets to be pedestrian-only for next 3 summers
---
EVENTS
Germantown Avenue Pocket Park Walk
Saturday, April 16, 11:15 AM EDT - 12:15 PM EDT
Meet at High Point Cafe at Allen Lane Station (7210 Cresheim Rd)
The City of Philadelphia's Comprehensive Plan, Philadelphia 2035, set a bold vision that all residents will live within a 10-minute walk of a neighborhood park or recreation area. The Mt. Airy Business Improvement District is proud to have contributed to this goal by building six pocket parks along the Germantown Avenue commercial corridor. We'll meet at High Point Cafe, located at SEPTA's Allen Lane Station (arrive early to grab coffee). From there, we will walk along the historic Germantown Avenue, where we will visit each pocket park and the sites of future pedestrian improvements. This walk is almost 2 miles one-way. When the walk is over, join Feet First Philly at Zsa's Ice Cream (6616 Germantown Ave). Register here.
Wednesday, April 20th, 11:00 AM
DVRPC is hosting a webinar to learn about regional examples of pop-up transportation projects. Hear from the influential community leaders about how and why they brought these projects to fruition. Panelists will include: Kimberley Bezak, co-creator of the Narberth Cycling Club (Borough of Narberth), Linda McIsaac, Founder, Gather in the Circle (Newtown Township), Cassandra Duffey, Borough Administrator (Borough of Collingswood) and Karen Taussig-Lux, Grants Administrator (Media Borough). Register for the webinar.
Thu, April 21, 2022, 10:00 AM – 11:30 AM EDT
The Philly Tree Plan is an urban forestry strategic plan that centers the perspectives of Philadelphia residents to bring the benefits of trees to communities that need them the most, in the ways that support them the best. The design team worked in partnership with the City to reach over 8,000 residents using a variety of engagement tools. Leaders of Hinge Collective will share their process for developing strategies that focus on personal narratives at a city-wide scale and how these narratives shape strategic planning. Free. Registration is required.
Thursday, Apr 21, 4:30 PM EDT
Philadelphia City Hall North Apron (1400 John F Kennedy Boulevard)
The Philadelphia Parks Alliance is having a rally at City Hall to increase the budget for Parks and Rec operations.
Citizen Lobby Day for Lead Free Philly Schools
Friday, April 22, 10:00 AM - 4:00 PM
The negative health effects from lead contamination are well documented. Yet lead is regularly found in water tested at drinking fountains and sinks in Philadelphia's public schools. Join our virtual citizen lobby day to call on Philadelphia city council. We'll schedule 1-2 video meetings with you, your elected officials, and other constituents (30-45 mins each) to discuss the importance of implementing policies to get lead out of Philly Schools drinking water. We're also planning a virtual kick off and wrap up for you to participate in throughout the day.
Sun, Apr 24, 2022, 1:00 PM - 3:00 PM
South Philly Meadows at FDR Park (1954 Pattison Ave)
The Meadows at FDR Park is one of the few natural places in South Philadelphia where people can go for a hike, picnic, walk their dog or just explore the great outdoors with friends and family. City officials are threatening to destroy this great public space and turn it into artificial turf soccer fields, paved roads, buildings and a privately-run golf driving range. So we're getting together to show the City of Philadelphia that their constituents want to keep this beloved park wild. Please RSVP.
Vision Zero PHL Conference 2022: Speed Control for Safe Mobility
Saturday, April 30, 10:00 am - 3:00 pm
Temple University Student Center South (1755 N 13th St)
This year's in-person conference will focus on policies and infrastructure that address the primary factor in traffic deaths: speeding. Panel topics range from automated speed cameras to creating more space in streets and intersections for people, not cars. Tickets are sliding scale ($35-$95), with a "pay-what-you-can" ticket available. See the event registration page for more pricing information.
---
GRANTS, FELLOWSHIPS, CFPs

⏰ Due April 15th!
The Housing Alliance of Pennsylvania is putting out
a call for session proposals
for the annual conference Dec 7-9 in Hershey, PA. If you or your organization have a topic you'd like to share in the biggest housing-related conference in PA, submit a proposal! If you have any questions, please reply to this email.
⏰ Due April 15th! Zero Waste Microgrant: City funding is available to help you reduce waste at your organization. Any business, nonprofit, or organization based in Philadelphia County can apply for a grant up to $1000 and personalized Waste Coaching.
Parks & Rec is now accepting applications for PlayStreets supervisors! This volunteer-led summer meal program is a great way to bring healthy food and safe recreation to children on your block. To apply to be a PlayStreet, call (215) 685-2719 or (215) 685-2720 or email [email protected].
---
---
5th Square is Philadelphia's urbanist political action committee.
We're an all-volunteer grassroots organization advocating for safe and affordable transportation, abundant housing, and more and better public spaces. You're receiving this email if you signed up via our website, attended one of our events, or supported one of our advocacy campaigns.
Support our advocacy with a recurring monthly contribution of $5.
Do you like this post?