Weekly Newsletter, Issue 193
---
🚆 ROOSEVELT BLVD SUBWAY TOWN HALL

As part of this effort, Arzu is hosting a Roosevelt Blvd Subway Town Hall, joined by State Representative Jared Soloman and longtime 5th Square volunteer Will Tung.
---
🏠 PHILADELPHIA HOME APPRAISAL BIAS TASK FORCE

Councilwoman Parker made a working group last year called the Philadelphia Home Appraisal Bias Task Force, working partially in tandem with Interagency Task Force on Property Appraisal and Valuation Equity (PAVE) that President Biden created in June 2021. Parker had previously published an op-ed on the subject with Ira Goldstein of Reinvestment Fund and Gregory Squires of George Washington University. The Task Force had several key findings: a lack of local data, a low number of appraisers that were not reflective of communities, homeowners not understanding the appraisal process, and the city not recognizing appraisal bias as a fair housing issue. These findings have now been compiled and released as a final report.
According to the report, there is a lack of quantitative and qualitative data for the entire appraisal process. The Task Force had numerous recommendations that revolved around working with all organizations that are involved in appraisal and housing, as well as community organizations to interview homeowners. The idea is to identify any existing or potential discriminatory appraisals at a variety of angles.
The report found that the demographic makeup of appraisers can influence the valuations. 95% of Philadelphia appraisers are white, and national figures for female appraisers is between 21% and 30%. The report recommended a clearinghouse of neighborhood information, favoring local appraisers, and training appraisers through various programs that are easily accessible through community college or online courses. Some Task Force members also suggested to remove the supervisor/trainee model that encouraged nepotism and replace it with a licensing model. However, the recommendation to partner with Better.com for training is concerning. Better.com is an online-only mortgage lender that has come under scrutiny for labor issues and is being investigated by the SEC. (Forbes has a timeline of events.) Partnering with Better.com may be a costly mistake for a city already mired in sketchy business deals.
Lastly, the report talked about educating homeowners and homebuyers and the lack of advocacy from the City. The recommendation from the Task Force is to support local housing counseling services and have the City put more resources into all of these efforts.
From the tone of the report, it is unclear whether Councilwoman Parker intends that more houses be appraised upwards, or that the lackluster appraisal process is influencing higher property taxes. We will be watching what comes from Parker's Task Force and City Hall to see what's next.
Download the full report here: https://www.reinvestment.com/wp-content/uploads/2022/07/PHL-HomeAppraisalBiasTaskForce_Report_July2022.pdf
---
🌉 59th STREET BRIDGE REPLACEMENT

The plans for the 59th Street Bridge, between Lancaster Ave and Upland Way in West Philly, have been released. Streets Department aims for the bridge upgrade to have better lighting and theoretically better for all modes of transportation. They are taking cues from the bridge on JFK Blvd with fancier lighting poles and a shoulder for the four lanes. The lane configuration and width will be the same. Disappointingly, pedestrians and bicycles will have to share the sidewalk. The awkward intersection on Upland Way will also remain unchanged.
Construction is slated to begin in 2024, with the bridge being narrowed for 6 months, closed entirely for 12 months, then half-opened for another 6 months. Pedestrian and bicycle access will remain throughout the project. The budget is an estimated $25 million.
---
Support our ongoing efforts for a more sustainable, walkable, and bicycle-friendly Philadelphia! All contributions go to supporting elected officials and campaigns that shape the city.
Become a 5th Square member TODAY & help us decide who to endorse in the next election!
---
WASHINGTON AVE POSTERS FOR SALE

If you want to show your support for the Washington Ave safety project, you're in luck! We have a new batch of posters available for sale, starting at $20. Proceeds go to the Safer Washington Avenue Fund, which supports candidates that want roads for everyone that walks, bikes, rolls, or takes a bus on Washington Ave. The posters will be delivered to your mail slot by one of our volunteers.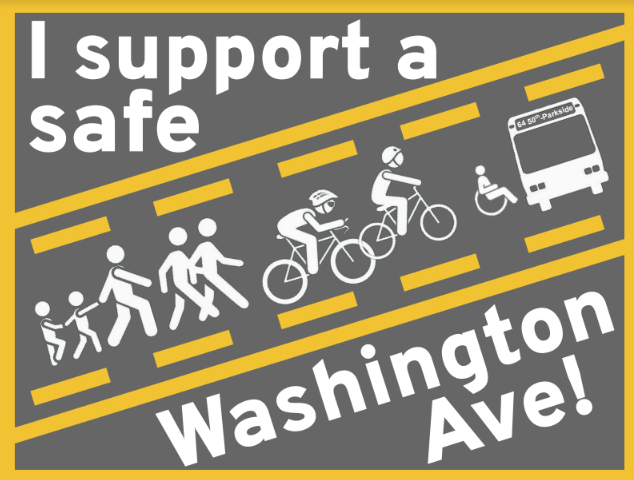 ---
VOLUNTEERS WANTED: MARKETING COMMITTEE

Do you want to make a direct impact on the success of urbanist campaigns and candidates? Join us for 5th Square's Marketing Committee Meeting on August 9th from 6:00pm – 7pm via Zoom!
This month we will:
Share 5th Square's strategic goals for the upcoming 12 months
Brainstorm marketing tactics to achieve those goals
Gather an inventory of members' interests and skills
Define a workflow to collaboratively tackle the work
No previous marketing experience is necessary, and all marketing disciplines are welcome! See our website for more details.
---
EVENTS
Reimagining Regional Rail community workshops
Norristown: August 2, 6:30pm via Zoom, register here: https://us06web.zoom.us/meeting/register/tZctdemuqzoqGt13uT0n6RwIJr2a7fYWQDl6
Chester: August 4, 6:30pm via Zoom, register here: https://us06web.zoom.us/meeting/register/tZEtd-qsqj4vH9JUBhWOW12yPbNX5UJcw2kw
Tuesday, August 2, 4pm via Zoom
Learn how to request a traffic safety study that can lead to your neighborhood street getting speed cushions, additional signage, re-striping, and other forms of traffic calming measures. This presentation does not cover arterial or state-owned streets. (e.g. Lincoln Drive, Germantown Avenue, etc.) Registration required.
Connections 2050 - Plan for Greater Philadelphia
Wednesday, August 10, from 10:00 AM - 11:30 AM via Zoom
DVRPC published the Connections 2050 Long-Range Plan in September 2021. The Plan was developed over a four-year process and is built on principles of equity, resiliency, and sustainability. This session will share the planning process and resulting policies, project prioritization and funding for regional transportation infrastructure, and strategies to achieve the regional vision. Registration required.
Spring Garden Street Connector Community Press Conference
Thursday, August 4 at 11:15 am
Spring Garden St between 12th Street and Ridge Avenue
Exciting news on funding and the future of the Spring Garden Street Connector--a 2.2-mile walking and biking corridor between the Delaware and Schuylkill Rivers. Join public and private funders; city, state and federal officials, and community champions to celebrate the vision of the Spring Garden Street Connector as a redesigned complete street.

RSVP by Tuesday, Aug. 2. Email [email protected]
Thursday, August 4, from 1-5 p.m.
Franklin Square (200 N 6th Street)
This event will be an opportunity for Philadelphians to share their feelings on the future of the site before it is put up for sale in 2023
. The event is hosted by Connect the Dots and Amber Art & Design, the consultant team behind the creative public engagement effort. For more information about the project and further opportunities for engagement,
visit the Roundhouse project website. To stay up to date on other Framing the Future of the Roundhouse events, residents can sign up to the project's newsletter.
Tuesday August 9, 6:30 PM via Zoom

SEPTA is working towards the vision outlined in SEPTA Forward, with all services working as part of a lifestyle network of frequent, all-day, and all-week services that connects people to a range of destinations across the region. Reimagining Regional Rail will create a vision of what that looks like and will identify the infrastructure, equipment, operations, and policies needed to get there.
Wednesday, August 10th, 5:00-9:00pm (rain date Weds 8/24)
7100 block of Germantown Avenue
Mt Airy CDC's signature outdoor event is back for the first time since the pandemic. Come out and rediscover the community and small businesses that make our neighborhood unforgettable!
Wednesday Night Rides: New Jersey
Wednesday, August 10th, 7:00 pm
Meet at base of the Ben Franklin Bridge
This will be crossover ride with Philly Full Moon Bike Ride, Philly Bike Party, and Garden State Bike Party. Ride ends at Tonewood Brewing in Oaklyn, NJ.
---
SURVEYS & EMAIL ACTIONS
---
🌳 PUBLIC SPACE
Philadelphia Inquirer / Philadelphia's new nighttime economy director wants y'all to know he doesn't party all of the time
Philadelphia Inquirer / Dear Philly's new 'Night Mayor:' Create more bars and clubs for Black residents | Opinion
---
5th Square is Philadelphia's urbanist political action committee.
We're an all-volunteer grassroots organization advocating for safe and affordable transportation, abundant housing, and more and better public spaces. You're receiving this email if you signed up via our website, attended one of our events, or supported one of our advocacy campaigns.
Support our advocacy with a recurring monthly contribution of $5.
Do you like this post?