Weekly Newsletter, Issue 122
---
⭐ CLAIM YOUR FREE SHIRT ⭐
We need just 7 more sign-ups in order to reach 200 members.  
Help us reach this milestone before the end of summer and build for important advocacy and election campaigns coming up!
We are now offering all new member sign-ups a FREE 5th Square T-Shirt delivered to your home.
NEW MEMBERSHIP OPTIONS!
Don't feel like committing to a subscription but still want membership? 
Sign up to be a member for 1 year, starting at $60
Subscribing memberships costs as little as $5-a-month or $60-a-year.
---
---
🚉 THE INQUIRER AGREES: REFORM REGIONAL RAIL
The Inquirer Editorial Board supports our efforts to reform SEPTA Regional Rail! 
In their editorial Rethinking SEPTA's Regional Rail could benefit Philly's neighborhoods they write, "The 5th Square proposal could greatly improve the value of the system, and deserves serious consideration."
DAVID SWANSON / INQUIRER STAFF PHOTOGRAPHER
SEPTA can quickly increase its capacity to serve working Philadelphians by opening its vast and underutilized Regional Rail network during an unprecedented time.
These changes would give Philadelphia transit riders the room to socially distance while also rebuilding ridership on otherwise nearly-empty Regional Rail trains. These changes would also break down long-standing barriers between transit and regional rail -- finally enabling riders to use SEPTA as an integrated network.
Sign our petition asking SEPTA to enact these changes today for the benefit of all working Philadelphians!
---
☎️ TELL PAT TOOMEY: TRANSIT NEEDS COVID-19 RELIEF
In yet another sign of utter dysfunction at the federal level, Congress can't agree to pass their next coronavirus relief package. The versions that Republicans have been proposing included NO MONEY for public transit systems across America.
This is unacceptable!  We are asking all our readers to tell Congress, especially Sen. Toomey to support our cities and support public transit .
Want to talk to a human? Call Toomey's Philly office at (215) 241-1090
Quick Talking Points:
Public transit revenue has cratered during the COVID-19 crisis.
This shortfall will mean fare hikes, service cuts, and shutdowns.
Congress needs to invest $32 billion to address the projected shortfall.
Public transit is the engine that drives the US economy.
Without a fully operational transit system that people can rely on to get to work, school, dining, shopping, and health care, there is no economic recovery.
---
🔎 CHECK YOUR MAIL-IN BALLOT STATUS
Unsure if you already applied to vote by mail in the November Election?
If your status says "Pending" then you will be mailed a ballot.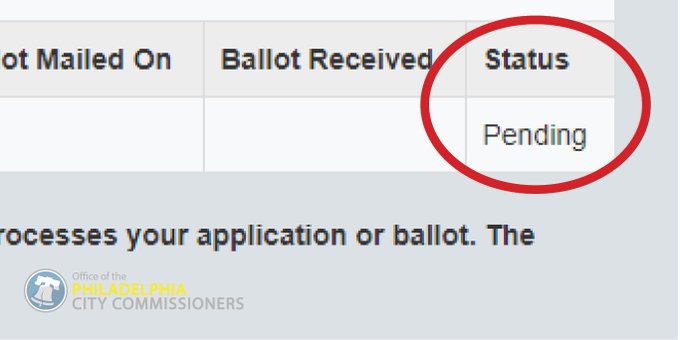 ---
---
GRANT / PROJECT OPPORTUNITIES
Smart Growth America (SGA) and the Centers for Disease Control and Prevention's Division of Nutrition, Physical Activity, and Obesity are now accepting applications for the Champions Institute, a new initiative for elected officials focused on safe streets and healthy communities. The Champions Institute will serve to prepare mayors, city council people, tribal representatives, and other local elected-officials to act as champions supporting plans, policies, and funding that promote activity-friendly routes to everyday destinations, as part of the Active People, Healthy Nation Initiative. (DUE 9/10)
From the pandemic to systemic racism and inequality, the Philadelphia Housing Development Corporation is asking artists to explore our present reality.
100 artists' proposals will be awarded $1,000 each for community-based art projects. Learn more at http://ArtIsEssentialPHL.com
2021 New Leaders Council Institute
New Leaders Council is a 501c3 and is the leading training program for a rising generation of progressive leaders. Anchored by its six-month training program, the NLC Institute, NLC equips our leaders with the skills to run for office, manage campaigns, create start-ups and networks of thought leaders. The 2021 NLC Institute begins in January 2021 and applications are due by September 3rd, 2020.
Philly Counts | Summer of Census Program
Philly Counts is launching their Summer of Census program, the final and urgent push for Census participation in Philly. They are seeking volunteers in our district (Mantua, Walnut Hill, and Garden Court) to distribute door hangers and information. We hope to support Philly Counts' work to get a complete and accurate count in the 2020 Census, which will ensure Philadelphia gets the resources we are owed. This volunteer opportunity will not require face-to-face interaction. Sign up at bit.ly/SummerofCensus.
JOB OPPORTUNITIES
The City of Philadelphia | The Office of Director of Finance | 
---
5th Square is Philadelphia's urbanist political action committee.
We're an all-volunteer grassroots organization advocating for safe and affordable transportation, abundant housing, and more and better public spaces. You're receiving this email if you signed up via our website, attended one of our events, or supported one of our advocacy campaigns. 
Support our advocacy with a recurring monthly contribution of $5.

Do you like this post?